Lucy's Cherished Teddies Homepage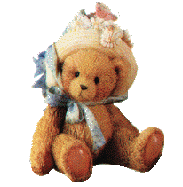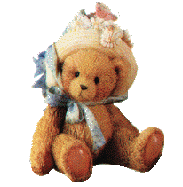 Hi! My name is Lucy, I live in Sydney - Australia.
My daughter and I have been collecting Cherished Teddies for approximately 6 years now. I have around 350 teddies and I would just love to hear from anyone else who collects as I do. If we had our way we would get every single one. My three (3) friends and I haunt the collectors shops weekly. Many shop owners have tried to beat us but many have died in the process. We are unstoppable!
Hope the following information proves to be enjoyable.

'Donna' the 1999 UK Exhibition Exclusive will be available shortly in Australia. For more information please contact Alex at panache@wantree.com.au.
Daisy and Chelsea Together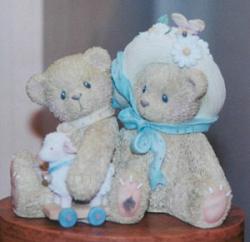 Yes you read it right. On April 17, 1999 - 1993 Reunion Event. "Old Friends Always Find their Way Back"
A beary special double figurine featuring Daisy and Chelsea will only be available during the event. This special figurine will retail for $25 with a $20 Cherished Teddies purchase. Daisy cannot be re-released in her original form, however, she can be re-released with heavy modifications!
Dennis
Mark your calenders for the 'Cherished Teddies International Event' featuring Dennis on August 7th. He's Really cute!!!
Retirement Dates Scheduled For 1999
All retirement dates correlate with Cherished Teddies event dates.
February 27th
April 17th
July 17th
October 16th
Event Dates Scheduled For 1999
February 27 ... Adoption Center Event~~~~Bette
April 17 .......... Reunion Event ~~~~~~~~~Daisy and Chelsea
July 17............. International Event~~~~~~~Dennis
October 16...... Adoption Center Event~~~~Sally & Skip

Teddies For Sale:
I have a few extra bears:
NAME

MINT IN BOX

PRICE -US

PRICE - AUST

CLAUDIA

Circus Set

Yes
23:00
45:00
CASEY

Santa Express

Yes
23:00
45:00
CINDY

Santa Express

Yes
19:00
35:00
EVAN

'98 NALED Exc.

Yes
40:00
75:00
JEFFREY

Dated 1996

Yes
27:00
55:00

LEVEL ONE

Benny (Reward)

Yes
60:00
100:00

LEVEL TWO

Amelia(Reward)

Yes
90:00
150:00
LEVEL THREE

Mary-Jane(reward)

Yes
120:00
200:00
LANCE

1998 Nat. Event

Yes
23:00
45:00
PETER

Retired

Yes
27:00
55:00
MONEY BOX

"ABC"

Mint
6:00
10:00
SQUEEZE TOY

"Corey"

Mint
4:00
6:00
REAR BEAR Set of 4

("Marty" Rear)

Yes
75:00
120:00

Do you want that special piece? Then let me help you find it!!! Please e-mail me for details.
If you have any bears to TRADE / SELL / WANTED. Let me know I may be able to help.

My Snazzy List of Links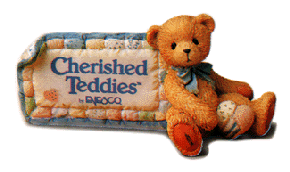 This is an unofficial Cherished Teddies site.

I wish to thank Panache for the picture of Donna.
This is my Guardian Angel Bear

Would you like your own Guardian Angel Bear? Click on the link below
http://www.angelfire.com/pa/deebear/teddy.html